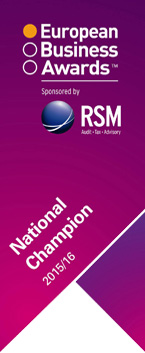 Kod-A has been awarded as National Champion in the European Business Awards
Since 2007, the European Business Awards has been shining a light on the most innovative businesses on the continent by promoting success, innovation and ethics in the European business community.
In 2015/16 Awards, the EBAs engaged with over 32,000 organisations in 34 countries. Showcasing the best in class, past winners are from a diverse range of industries including pharmaceutical, engineering, fashion, cosmetic, online businesses, manufacturing and transport. Winners of the EBAs are congratulated by an audience comprising heads of state, leading industrialists, entrepreneurs, business leaders, media owners and academics from across 34 European nations.
Participants represented a combined turnover of over €1.2 trillion Euros, employing over 2.7 million people.