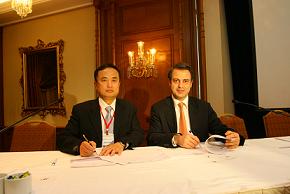 Turkey's leading Software Company Kod-A and world scanner giant Avision
9th of January, 2009 in Hilton Istanbul, the event about "Information Technologies Investment in Turkey in the Globalization Period and at the Global Crises" was done with sponsorship of Mr. Binali Yıldırım, Minister of Transportation. Precious speakers, selected guests and media members participated and there were very high interest to the event. The event started with opening speech of Mr. Thomas Sheng, Avision World Chairman, Mr. Dr. Tayfun Acarer, Information Technologies and Telecommunication Institution Chairman, and Mr. Prof. Dr. Muhammet Sahin, ITU Rector. Ozlem Unan, Interpromedya Marketing and Research Group Manager, made a presentation about research results of Turkeys Information Market.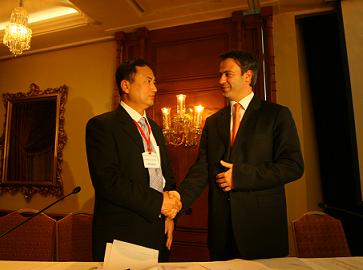 After the presentation, panel started with Information Technologies and Telecommunication Board vice chairman Galip Zerey's leadership and participation of Charlie Chou, Avision World Deputy Chairman, Ersin Taskın, Kod-A CEO, Nazide Peker, ITU ARI TechnoCity CEO and Assistant Professor Dr. Atilla Dikbas, ITU Rector Consultant. Avision's World Deputy Chairman Charlie Chou said that "While working with Kod-A, we are impressed very much with magnificent technologies and nonstop development of software. We decided to join Avision's hardware power and Kod-A's software power. With this agreement that will be signed later in  this meeting, we will form Avision Eurasia firm. With cooperation of Avision Eurasia and Kod-A, we will supply products and service to the region and also work as an R&D (Research & Development) centre".
KodA CEO Ersin Taskın summarized this agreement with "In this world crisis time, one of the biggest companies in its sector is investing to Turkey. This investment is real. From now on, direct investments, to production and even to technology development, are more important than ever. Avision increased their sales in Europe by using our unique software technology developed in ITU ARI Techno city and they decided to develop technologies to the world with our software development abilities and by using our technologies". Mr. Taskın continued by saying "We hope this agreement can be an example for investors in Turkey and the rest of the world. We target $100 million US Dollar exportation with this agreement. If sector uses the same model, billions of US Dollar exportation is possible and close. Our excitement is to increase such samples".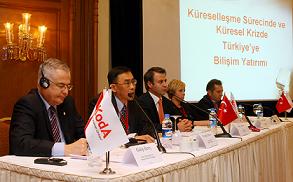 Nazire Peker, ITU ARI Techno city CEO, said "We are getting the results of R&D activities within the Technology Development Region". They are happy to see KodA, who placed in Ari Techno city has success stories, she mentioned. ITU Rector Consultant Assistant Professor Dr. Atilla Dikbas mentioned his pleasure of success stories over the World of Turkish Software Developers in KodA by saying that "there are good quality and quantity of engineers and scientists to make R&D activities in Turkey".
At the end of the meeting, Avision and KodA signed a cooperation agreement with the presence of audiences and media members with a ceremony.