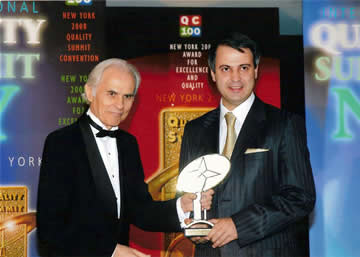 Golden Category Award in the 22nd International Quality Summit
The 22nd International Quality Summit took place in Marriot Marquis Hotel New York in May 25-27th, 2008. Quality Awards in Gold, Platinum and Diamond Categories were given with a ceremony on May 26th. KodA was among the Golden Award winners.
The summit is organized by BID, an international quality organisation spanning 178 countries, every year in New York. "The winners of the Quality Summit Awards are symbols of dedication to quality, leadership, technology, and innovation. They are the actual role models for the other companies in their sectors," remarked Mr. Jose E. Prieto, the President of BID, in his opening speech.