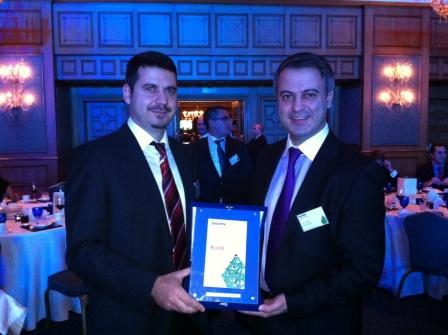 Kod-A is the eighth fastest growing technology company in Turkey
Deloitte Turkey announced the 2011 winners of the Deloitte Technology Fast50 programme, where companies are ranked according to their revenue performance over the last five years, on Monday November 14th 2011 at the Ritz Carlton Hotel Istanbul. KodA has been granted the eighth fastest growing technology company in Turkey award.
The Deloitte Technology Fast50 was established in San Jose, California in 1995. It reveals the 50 fastest growing technology companies by geographic region. The growing programme operates independently in 18 countries outside of the United States, plus one region – Central Europe. The Fast50 programme supplement the broader Deloitte Technology Fast 500 initiative as the local winners are automatically entered into the Fast 500 programme.
The Deloitte Technology Fast50 is an award program honouring business growth, technological innovation and Turkish entrepreneurial spirit. Now in its sixth year, the Deloitte Fast50 Turkey Awards have become the benchmark to identify Turkey's fastest-growing high-technology companies through an objective ranking based on sustained revenue growth over the past five years. The awards identify the trends that are shaping the technology, media and telecommunications sectors today. This prestigious annual award honours the fastest growing technology companies and well recognized by the sector. The ranking features technology companies that have demonstrated innovative strategies, sound management practices and marketplace vision driving them to achieve the status of high-growth leaders. Winners of the Technology Fast50 are eligible for the Deloitte Technology Fast500 EMEA, which ranks the fastest growing technology companies in Europe, the Middle East and Africa. These companies will have the chance to carry their accomplishment to an international platform. Winners are announced at the end of the year at an exclusive, invitation-only, executive networking event in Europe.
KodA has also been granted the priviledge to attend the EMEA Fast 500 Award Ceremony in London on November 24th 2011, as an EMEA award winner.