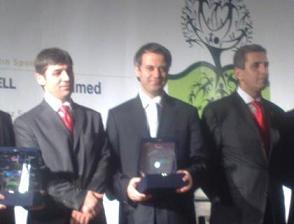 Kod-A sponsored "the Healthcare Sector Managers Summit"
Kod-A attended the "Healthcare Sector Managers Summit" organized by Marmara Workers Federation. The summit had an outstanding attendance of Government and Public Sector Healthcare professionals and managers. Kod-A had a sponsor booth in the summit.
Kod-A digitizes patient files and provides digital file archiving and management solutions to the healthcare sector. "A completely paperless hospital is not possible without digitizing patient files," remarked Miss. Aysegul Ozturk, account manager in her presentation in the Kod-A booth.
Sponsor companies are granted a plate of recognition by the federation. CEO Mr. Ersin TASKIN recieved the plate on behalf of Kod-A.